Bill Kushubar
Favorite Things is a series of posts by Inntopia employees about their favorite parts of the systems and services we offer. Some are big, some are small, some are simple, and some are complex. Enjoy a veritable cornucopia of hidden gems by visiting the Favorite Things archives.
Have you ever seen someone going up the down escalator?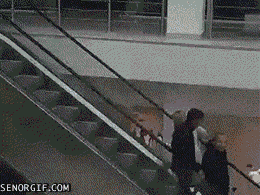 It's not that you can't get to the top that way. It's just that it's harder and more exhausting. Which is fine if you're looking for a workout, but less great when you really just want to get there.
I sometimes feel the same way about resorts and other travel sellers who aren't using direct integrations to package and sell their lodging, activities, passes, and other products together – they make it work, but it could be so much better.
Take Siriusware for example. It's one of the most popular, most powerful point-of-sale systems on the market. But you're not going up the up escalator until you're combining everything in Siriusware with everything else you offer to your guests into a one-stop booking experience.
Siriusware + Inntopia Commerce
Inntopia Commerce connects directly to your Siriusware database to pull in your products and their associated rates and availability. Then it's displayed and offered to your guests via our responsive eCommerce platform. Your Siriusware products can be dynamically priced with our YieldView Calender and packaged with lodging (both your own lodging and inventory from area partners), transportation, or any other third party product.
And importantly, Inntopia isn't a hack or a workaround. It's a powerful, deeply integrated partnership that can really take things to the next level.
#1 Real Time
Inntopia Commerce displays real-time rates and availability to increase online bookings just as they exist in Siriusware. And then when itineraries are booked, you can push reservation and guest data right back into Siriusware.
#2 Increase Order Value
Because Inntopia Commerce allows you to sell products from Siriusware side-by-side with others, you can increase average order value and/or drive revenue selling third party products for commission.
#3 Zero Learning Curve
Even when you're using Inntopia Commerce, your frontline team still uses Siriusware so there's no learning curve. It's incredibly easy to get started.
Commerce + Marketing Cloud
Even better, Inntopia Marketing Cloud can also pull in all of your guest, season pass, and transactional data from Siriusware to give you one clean master database to use for marketing, analysis, and planning.
All guest data is regularly imported, cleansed, deduped, and householded to always include any new guests, transactions, or scans. Our tools also allow you to easily segment your database for marketing outreach and analyze your guests' purchasing behavior to continuously enhance your efforts.
Give Your Guests What They Want
Your guests want a one-stop shop when they're booking travel, they want marketing that's relevant and interesting to them as individuals, and Inntopia allows you to do both without replacing your POS, PMS, or any other system.
Interested? Request a no-pressure demo to learn more.