A simple, day-by-day guide to Thanksgiving marketing performance.
Next week is Thanksgiving in the United States. As such, it's one of those tricky holiday windows where your brand may have something to say but you're never quite sure when to say it. Even trickier are the marketing-laden days of Black Friday and Cyber Monday that follow. So, when should you send those email campaigns you've got planned? Take a look.
The Goods
To find our answer we looked at email marketing performance for 100 resorts and hotels since 2008. We found the average daily open and click rates of the week before and after Thanksgiving and plotted them on the chart below.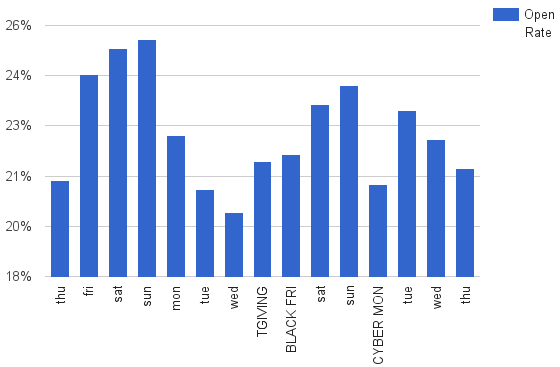 For this sample the open rate peaked on the Sundays before and after the holiday, click rate peaked even earlier than that, with Thanksgiving, Black Friday, and Cyber Monday all coming in just below the sample's overall average in both opens and clicks.
What This Means
With both charts we see the highest performance 4+ days before Thanksgiving. In other words, if you have something to say and were planning to send early next week, you may want to hustle and get it out the door either during or just prior to this weekend.
But what may catch your eye in this chart is the dip in opens on Cyber Monday when email volume (not shown above) peaked for this sample. So, is there any correlation between widespread email volume and average performance? That's what we're going to look at next week.
Don't Miss It
If you don't want to miss next week's analysis, stick your email address below and we'll send you an alert when it's posted.
Share on: