Q: Age vs. length-of-stay: the older the guest, the longer they stay?
A lot of things can change with age – jobs, vacation days, income, marital status, and children are just a few. To start the analysis of age, we decided to tackle one simple question: what effect does age have on how long a guest stays at your resort? You may be able to guess the overall trend, but the exceptions to the rule are the interesting parts of this week's Stash.
The Goods
We took data from nearly 75,000 winter reservations made at five major destination resorts for our sample today. The question and analysis are pretty straightforward: what is the relationship between the age of the person making the reservation and how long they stay? Let's look at the results then talk about what it means.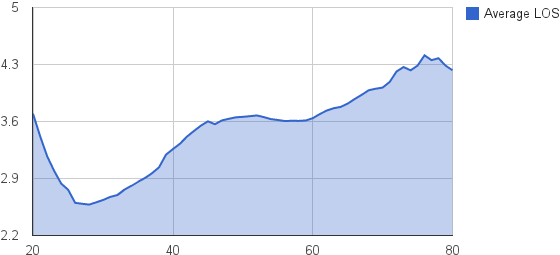 Age is on the horizontal axis and length-of-stay (4 = 4 nights of lodging) is on the vertical axis. An overall trend is easy to pick out: older guests stay longer. But let's look a little bit closer at a couple exceptions to that rule.
First, a small dip right around 60 years old.
What could this mean? Why would LOS steadily climb until the early 50s and then dip slightly before climbing again soon after? Our best guess would be a pre-retirement belt tightening. With the end of a long career is in sight, couples in their late 50s may sacrifice longer trips to save money and get to retirement faster.
Second, the long LOS for 20 year-olds that quickly drops for those in their late 20s.
There are likely a few factors at work here. First, during the college years a younger skier will have 2-3 week long breaks off of school that they'll want to make the most of (and may still be using their parents' credit card to boot). As they enter college and then graduate, they have entry level jobs that may not pay as much as they like nor give them much vacation time so weekend trips may be easier or the norm. As both guests and careers mature, the length-of-stay is able to increase.
Why This Matters
Guest data allows marketers to target their emails, promotions, etc. to a long list of traits – including age (Ryan Solutions clients, you can already do this). Matching offers to a guest's life-stage can allow you tailor offers even further and avoid deals that cannibalize revenue by giving free or discounted days to groups that would have paid for them at full price.
Outside of guest data, consider Facebook ads. When you can target ads by age, you can have the same level of confidence that the offer will match the person who sees it. A "stay 4, pay for 3" offer may be perfect for someone in their late twenties, but may need to be adjusted if targeted for users over the age of 50.
Subscribe for Free
To have a new Stash waiting in your inbox each Tuesday morning, just enter your name and email below.
Share on: