The latest batch of season-in-review email performance stats are in.
For more than a half-decade we've been aggregating and sharing season-in-review email stats for the mountain resort industry. These simple, annual recaps have acted as a gauge of both email as a channel but also the advancement of marketing efforts within it. So how did 2015/16 shake out? Here's what we saw.
The Goods
To find our answer we used the same methodology as previous years to add these new data points. Specifically, we only included campaigns sent by mountain resorts to at least 10,000 recipients during the 2015/16 winter season. The chart below shows all previous years as well.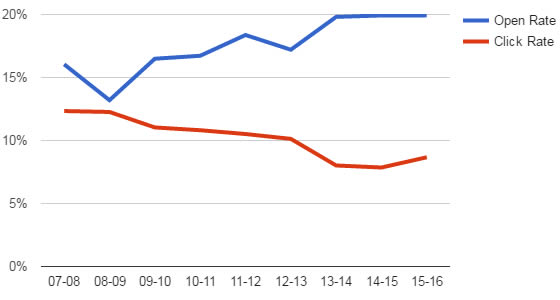 Email open rates climbed very slightly to 19.94% while email click rates rebounded to 8.67%, it's highest point in three years. Not pictured is opt-out rate which stayed right on it's 5-year average at 0.22%, down from 0.25% last season.
What This Means
As much as we'd like to see the spike in open rate continue to climb, we're equally happy to see it stay consistently high as it has the last few years. Averaging 20.0% open rates on newsletter-like sends across an entire industry is extremely impressive as is the drop in opt-outs.
But we did get a nice surprise with the rebound in click rate. Interestingly, it's that same window of three seasons where we see a fairly consistent rate on the click side as well. Is email maturing…again? Is email marketing finally striking a balance between recipient behavior and technology? Whatever the case, it's a good sign for a powerful medium.
Next Week, More
We've been publishing new hospitality-specific marketing insights with hospitality-specific marketing data every week since 2012. We call it Tuesday Trends. Stick your email below if you don't want to miss the next round.
Share on: